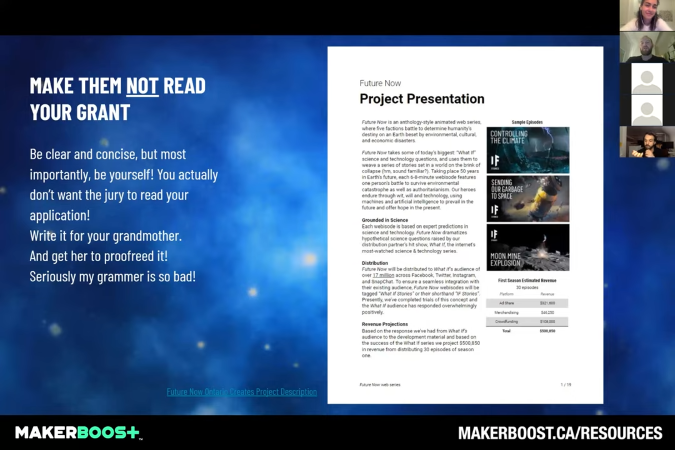 On November 9, 2021 Maker Boost held our second virtual grant writing workshop!
We'd like to thank everyone that joined us and made the workshop a success. Since its inception, Maker Boost has been working hard at keeping our community together and active. Since COVID we have been expanding our free resources to the public. As promised, we're making the contents of this session available to everyone.
You can find the meeting recording with discussion embedded below. We're also sharing the workshop presentation (here) that includes everything we covered during the session.
We hope you find these resources useful. We'll be hosting this workshop quarterly, so if you missed it this time, you can sign up for the next one here. A good way to make sure you don't miss it, and that you stay up to date on all our events and opportunities, is by signing up for our newsletter!
---
Other Upcoming Events:
Live Cinema Workshop
December 14, 2021 at 6 pm ET
Join award-winning media artist and filmmaker, Maziar Ghaderi for an introduction on "live cinema" – an emergent storytelling platform that allows for a film to be shot and screened simultaneously.
Pitch Your Project #004
January 11, 2022 at 6 pm ET
Join two Maker Boost members as they rapid pitch their latest creative projects and receive live feedback from the community.